Heating & Air Conditioning Products
Ozark Air Conditioning, Heating & Refrigeration has the desire to make sure you have the right products for all of your climate needs. We source our products from Lennox International, Inc., commonly known as Lennox. Lennox provides high quality products that are very reliable. Having Lennox as our partner provides you with the trust that our solutions will let you sleep better at night.

Many of our Lennox products center around the basic fundamental products that 99% of our customers need to be maintained, replaced, or repaired. They include:
Depending on your needs, allow us to provide a customized solution to meet your needs.
CALL US TODAY FOR INFORMATION ABOUT LENNOX REBATES.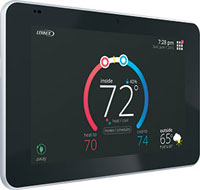 With the Schedule IQ feature, you only need to program the thermostat once. Whenever there's a change in your routine, the iComfort® S30 adapts heating and cooling to match.
Purchase iHarmony® zoning, a major advance in precision climate control and enjoy savings and custom comfort.